Easter is around the corner, and incidentally, so is spring. This means that the weather is just warming up ever so nicely so that you, the kids, and the broader family can get inside, outside, or both for your Easter egg hunt. Although every family celebrates Easter differently, Easter hunts are a staple activity for many.
They delight both young and old and they're a great way to share fun and laughter with your whole family crew. Easter is a special time of the year and you want to make it even more special for your loved ones. But if you want to get creative (and personal) you may be wondering what to put in an Easter basket. Don't worry, we have you covered with our fantastic Easter chocolate gifts and ideas you can try.
What should I put in my Easter basket?
The typical Easter basket (tote bag, backpack, box, or whatever you choose to use) generally contains fun and sweet edibles. Even though some people prefer to add non-edible items to the mix, the chances are that a chocolate novelty will go down very well and be highly appreciated.
This is especially true if you are preparing Easter baskets for children or adults who you do not know very well. Why? Because chocolate is loved and appreciated by practically everybody. It's a gift you won't go wrong with.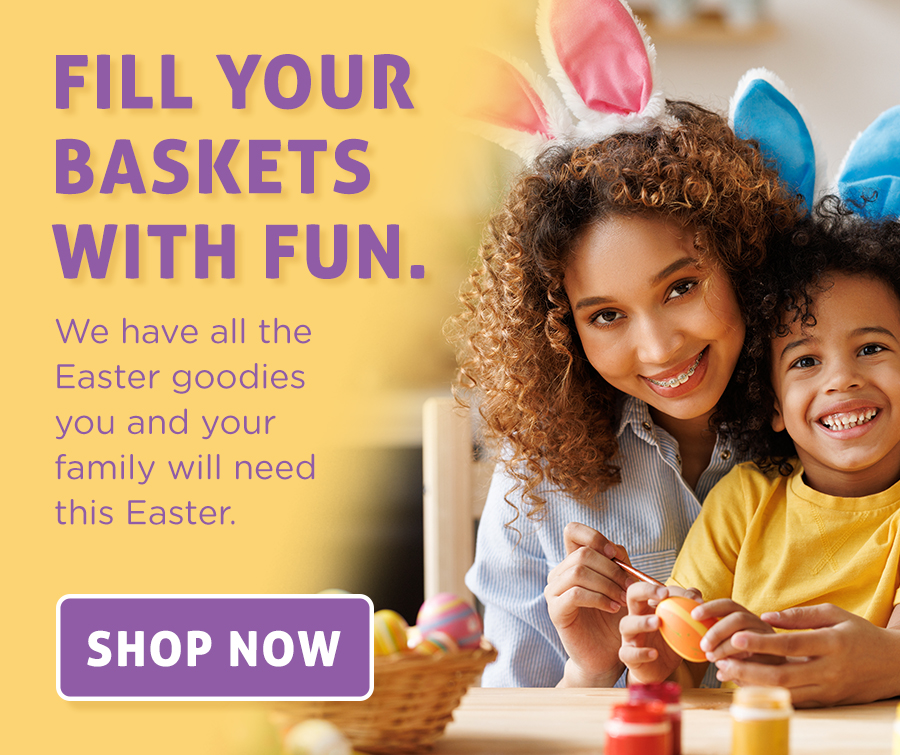 Various Easter gift basket ideas for different ages
You may be scratching your head, wondering what to put in a kid's Easter basket. But don't worry, we're here to help. At Totally Chocolate, our variety of amazing chocolates and treats will go down well with children and adults of any age.
So, let's dive into the big question: what to put in an adult Easter basket?
Toddlers
Toddlers are past the teething stage and they will have a phenomenal and exciting time searching for hidden treasures around your home and garden. You can build onto their excitement by giving them a few (three to five) sweet treats to hunt for.
In particular, and if you don't want them to have too much of a sugar-high, you can try our cookie sets, which are available in Belgian milk chocolate, dark chocolate, and cookies and cream flavors.
Older children
Children aged four to around 12 have more refined preferences and tastes. Yet they still love the thrill of discovering hidden treasures.
As such, you can treat them to custom, miniature chocolate shapes that can be customized to your needs.
What's more is that because most of the children in this age group can recognize shapes and read, you can have these custom-shaped chocolates engraved for a more personalized and special experience.
Teens
We often think of teens as too cool for chocolate Easter hunts, but be assured that they love it just as much as toddlers and adults do. They just don't show it. But the smiles on their faces will be enough to make your efforts worthwhile. So, what is our recommendation for teens in terms of chocolate? The answer is easy: chocolate ensembles and chocolate bars.
We all know that chocolate can put us in a good mood and not only that, it tastes simply delicious. Choosing personalized and engraved chocolate bars for your teens will make them smile from ear to ear and it will be a memorable gift that they won't forget in a hurry.
Adults
Whether you have your friends and family over for the hunt or you're inviting adults along for the fun without knowing them too well, chocolate is still the best answer. But adults require a lot more careful attention with the hunt you'll send them out on. You'll want an engraved and personalized gift that leaves a lasting impression and one that is delicious to its very core as well.
Where can you find this combination? With our luxury tasting boxes that contain chocolate bars, chocolate pieces, as well as cookies of a variety of different flavors. These may include Belgian milk chocolate, dark chocolate, and cookies and cream flavors or a combination of all three.
Ultimately, you're going to have some very happy and thrilled adults who won't expect the treats you've got in store for them.
Let the Easter hunt (and the fun) begin!
If you are looking for novelty Easter chocolate gifts and ideas but you don't know where to start, look no further than our rich and extensive selection of chocolate goodies that are perfect for every age. From toddlers through to teens and adults, you're going to absolutely delight everyone that participates in your Easter hunt this year.
Our special Easter chocolate gift selection accommodates every age and every taste bud and it is absolutely not to be missed. Take a look at all the ways you can personalize your chocolates and have them specially engraved for an even more memorable and fun experience. Trust us, you won't go wrong with chocolate whoever you are catering to on this special occasion.