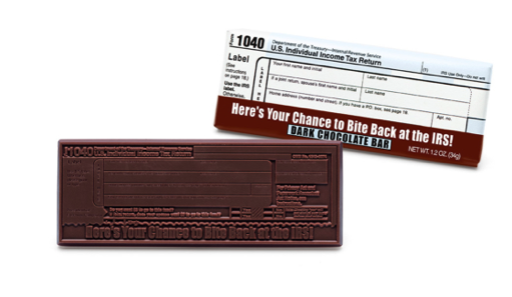 Can you believe that it's that time of year to start thinking about your taxes? Even though tax season comes every year at the exact same time, it still somehow feels like a shock to the system.
We truly admire the people who have the time, patience and wherewithal to tackle their own taxes. But for many of us, especially small business owners or others whose lives make their accounting more complicated, it can really pay off to pay a Certified Public Accountant, or CPA, to do their taxes for them.
CPAs are, generally speaking, amazing people, and they work incredibly hard, especially leading up to and during tax season. There are a few good reasons why so many people pay these professionals to prepare their taxes. Did you know that the actual tax code itself is 74,000 pages long and that there have been 4,500 changes to the tax code since 2001?
So, yes, CPAs are worth every penny they make, and maybe even a little more. Have you ever considered that maybe your accountant deserves a little something extra for all their hard work? Maybe in the form of a delicious, high quality, Belgian chocolate?
At Totally Chocolate, we have some excellent, edible gift ideas for accountants, tax preparers and CPAs. Or maybe you are an accountant yourself and would like to offer your clients a treat to say thank you for all the work they have given you. Either way, we have some great chocolate items that are perfect for tax season.
As we like to say: Why not make tax time sweeter and "bite back" at the IRS?
Here are some of our favorite tax season gifts!
5 Best CPA Gift Ideas in 2022
Haven't you always wanted to get your hands on a case of gold coins? Or at least give your customers that great feeling of being rich? Well, here is your chance. They're engraved with CPA and individually wrapped in high-end gold foil, and each time you give away one of these Belgian milk chocolate coins, you promote your business and the accounting profession. Ideal for CPAs and tax preparers, or they are fun accountancy customer gifts that you can hand out as you do your end-of-season billing. Orders are done by the box, which contains 250 pieces.
Whether you are the accountant or the client, these bars are the perfect treat for getting through tax season. The perfect way to say a great big, delicious Thank You. Our Thanks a Million traditional-sized Belgian milk chocolate bar will do the trick to spread the gratitude. Your heartfelt feeling is engraved in the chocolate and repeated on the colorful wrapper.
Must be purchased in full case quantities of 50, but don't worry, you will go through them quicker than you think! Order 250 or more and we will imprint your message on the back of the wrapper for FREE!
Ahhhh, the ever familiar Form 1040. Why not add some joy to the form that strikes fear in the hearts of people across the country, and order a case of Form 1040 chocolates?
Each milk or dark Belgian chocolate bar is packaged in a 1040 Form wrapper with matching artwork engraved in the chocolate bar, making tax time as sweet as can be.
Order by the case, each containing 50 bars. And if you are looking to make this an extra special gift, order 250 bars or more and we will imprint your message on the back of the wrapper for FREE!
The sweetest way to say Thank You is with a highly delicious, custom chocolate bar. This classic 2 x 5 milk chocolate bar with printed wrapper is an excellent business Thank You gift for clients, employees or your hard-working CPA. A memorable chocolate gift everyone is sure to enjoy. And it's big enough for sharing, if one is so inclined.
Must be purchased in full case quantities of 50. Order 250 bars or more and we'll imprint your message on the back of the wrapper for FREE!
We're not saying we've saved the best for last, but these are one of our most enjoyed and enjoyable items. Add some tongue-in-cheek fun to tax season with our popular round cookie engraved with a "Bite Back" message in pure Belgian milk chocolate. Each cookie is individually packaged in a silver "Bite Back at the IRS" printed wrap to match. Perfect for tax season clients and we are pretty sure that your overworked accountant will appreciate a case of these as they are burning the midnight oil.
We also have a range of other customizable chocolate options that make perfect gifts for hardworking individuals or excellent clients in your life. Take a look through our site to find the gift you are looking for. Contact our team and we'll put custom magic together for you!
Whatever your opinion on taxes (and everyone has an opinion on taxes!), we all know that it's a part of life. There is no doubt that tax season is stressful, no matter what side of the deal you are on. And for CPAs, who comb through that complex and ever-growing, ever-changing tax code and stay on top of changes in order to save you money, a little delicious, high-quality chocolate is sometimes just what they need to make it through the season.