We love helping our corporate customers find the exact right gift to give. Whether it's a holiday gift for a client, an associate or their entire staff, or as a gesture of good will for a corporate deal they want to close, Totally Chocolate provides luxury chocolate gifts for any and all business occasions.
What makes us unique? Our clients (you!) can buy completely customizable chocolate online (and we offer wholesale discounts) as a completely unique gift for your clients and business associates.
If you are looking for a luxury corporate gift, check out these incredible creations from our Best Sellers list.
Corporate Gifts with Your Custom Logo on Chocolate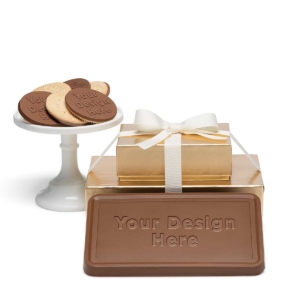 This amazing set combines some of our most popular things—bars of chocolate and cookies. With lots of options for customizing flavor and design, you can make it truly special by adding your corporate logo or image of your choosing.
If two is not enough, we are happy to offer this luxury tower. Choose from different flavor combinations that will be sure to impress your client or colleague, and the beautiful packaging will provide the eye-candy. Did we mention that the top tier showcases a box of 12 creamy dark chocolate salted caramels?
This decadent box contains 6 custom engraved milk or dark chocolate sugar cookies, 10 milk chocolate classic wrapper bars and 5 hand-batched toffee covered pretzels or cookies, all inside a fully custom printed magnet box. What can we say? It's gorgeous!
We are proud to offer this luxury gift. Complete with an array of customizable options and flavours to choose from, this is a step in the direction of being extra (extra) special. You won't find this sophisticated, delicious gift on any store shelf.
For all of our luxury custom gifts, we offer wholesale supply and pricing. Check it out online or give us a call. It really doesn't get much better than this!
We have made the online process as simple as possible. Feel free to use our online ordering form, or if you would like to speak to someone about a good idea you have — call us or speak to us on live chat at the bottom of this page! Our team is standing by to help bring your vision to life. We want you to have the best experience possible, and we want you to impress your clients and colleagues with the most unique gift out there.