Business is all about relationships. In order to have a long-lasting business relationship that is mutually beneficial, you need to take some time to build trust, add that personal touch and really get to know the company or client needs.
There are plenty of ways you can let a client or corporate partner know their business is appreciated. You can send thank you cards and follow up emails… but how effective are these? Cards get tossed in the trash and emails get lost in a sea of messages and are quickly forgotten.
So how do you stand out and stay top-of-mind? Of course, we are going to say that chocolate is the answer? But not just any old chocolate… personalized chocolate with custom engraved corporate logos. Now that's something to remember.
Getting chocolates with your corporate logo custom engraved onto them is the perfect way to connect with other businesses and potential clients. They are excellent in any situation, especially if you are doing the trade show circuit. Instead of another boring pen or water bottle, handing out custom engraved chocolates with your logo is a surefire way to make you stand out from the crowd.
Another great place to include chocolates is in those thank you cards that often end up in the trash. Include a few custom chocolates with the card or better than that, make the card a chocolate delight like the custom trio envelopes! Custom chocolates make a good addition to any kind of follow up card, from thank you cards to holiday cards. People will still remember the custom chocolate treats, and your logo, for a long time to come.
And you can get creative, according to your business needs and branding. You can order custom chocolate coins, chocolate cookies, chocolate bars, or even design a shape that reflects your business or industry.
Custom chocolates are unique and unexpected, and that's another secret of doing business in today's world. Especially for start ups and businesses that are trying to stand out in a field that is saturated — you need something to separate you from the rest of the players.
And you don't need to be gimick-y to the point where people are going to be confused or annoyed. What you need is something that sets you apart from the rest of the pack, with a bit of humor while remaining professional.
Don't forget that word spreads! Not only would sending a engraved chocolate bar or customized chocolate gift box build relationships and loyalty, but you know that your client will  be telling their colleagues and clients about it. Word of mouth and a glowing endorsement does wonders in helping a business grow.
Still stuck for ideas? Here are some of the most popular:
Unique client gifting options
Chocolate Business Cards
As the world is increasingly paperless, traditional business cards are on the brink of being out of date altogether. But sharing info electronically can easily get lost. So why not do something different? Chocolate business cards can come in Belgian milk or dark chocolate.
Order Chocolate Business Cards

3 oz. Custom Milk & Dark Chocolate Combo Bar
With a canvas this big, you can really get creative. Logos aren't the only option for custom engraving on chocolate — any image that captures the spirit of your business or your business goals can work. You can get a custom design etched onto different dark and milk chocolate combinations, and have some creative messaging with the packaging, too.
Order Custom Milk & Dark Chocolate Combo Bars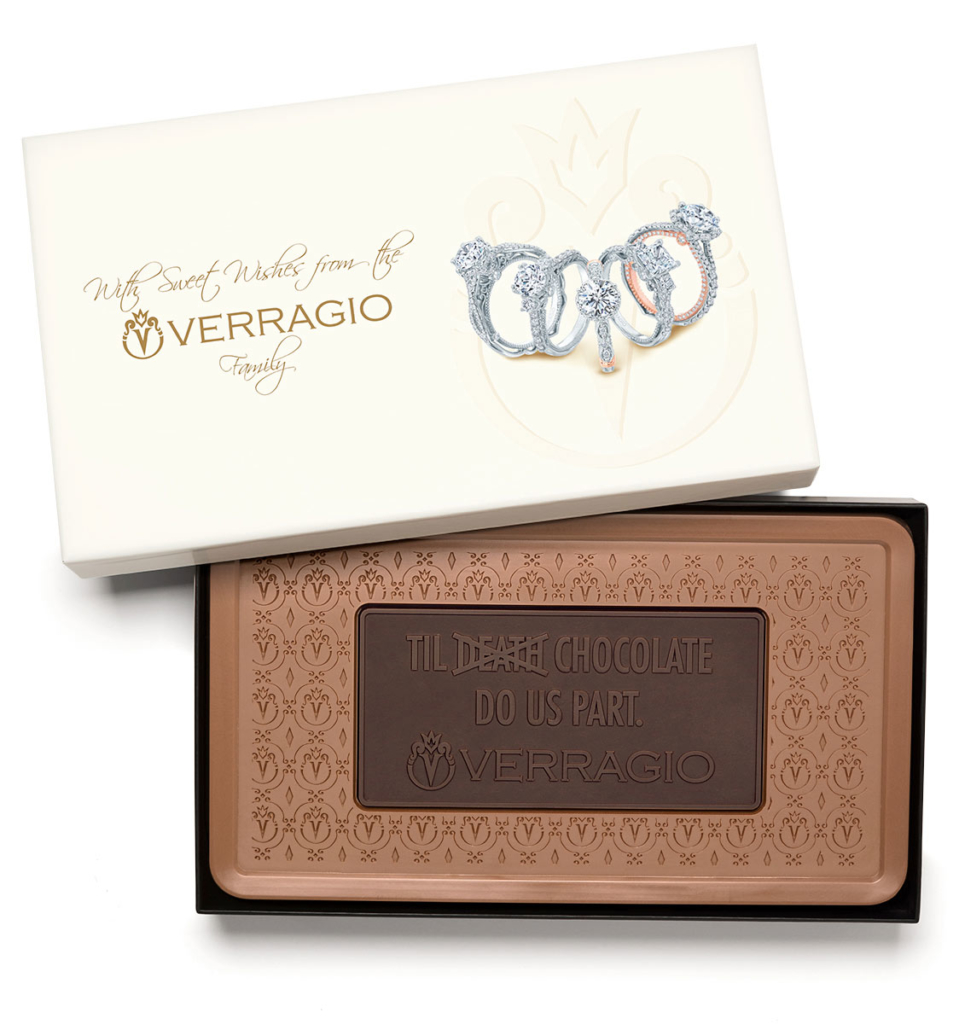 Custom Printed Box Lids and Sleeves
Chocolate is not the only thing you can customize. Create custom printed box lids and sleeves, from bright, bold logos to full color images. These days, the images are printed in high def with exquisite detail to really capture the look and feel of the company.
Order Fully Custom Chocolate with Gift Boxes

Chocolate Combos and Ensembles
Can't narrow it down? Chocolate ensembles or combination boxes are a great way to send a message to a client or business partner. What makes custom chocolates so special is that you know you can't find them in your local grocery store — they have been special ordered and delivered. It's that extra effort and the thought behind it all that makes a partner or client feel cared about. And isn't that the way to build relationships?
If custom chocolates are right for you, it's a good idea to order in bulk. You will be able to get discounts on pricing, and save on shipping costs.
Another reason to order in bulk is because you might want a variety of flavors and sizes. Maybe that combination includes a mix of milk and dark chocolate, and small and large items. Instead of having separate packages for each and every item, which have a higher chance of getting lost in transit, order everything at once so that it is more convenient on both ends.
Even if you want to do something special and maybe a touch extravagant, you still need to consider the bottom line. Saving money is always good business. Whether your company is ordering personalized chocolates for a swag bag at a conference, or as a customized promotional gift or thank you gift, ordering in bulk is the best way to save the most money.
Ordering wholesale chocolate also means that you will have plenty on hand if there is ever an event or impromptu meeting that you don't have much time to prepare for. Our only advice? Keep them somewhere safe because they might disappear unexpectedly!
Gift giving in the corporate world can actually be a bit of a catastrophe waiting to happen, and there lots of things to consider when handing things out in the corporate world. You need to stay classy, be creative, don't take yourself too seriously but remain professional. There aren't that many things that hit the mark. But custom engraved chocolate does! So go ahead, get your logo engraved on a delicious, high quality chocolate and see where it can take you!