"We do not remember days, we remember moments." – Cesare Pavese
Guest experience (not to be confused with customer service), is the totality of interactions between a guest and hospitality service throughout the guest's stay.
"The race to own customer experience is on! Companies are recognizing the importance of delivering an experience that makes them stand out from their competition;" "Today, 89% of companies compete primarily on the basis of customer experience – up from just 36% in 2010."
~ //www.forbes.com/sites/shephyken/2018/07/15/customer-experience-is-the-new-brand/#6bc692f07f52
With these facts in mind, below are 4 ways you can create a memorable guest experience:
CREATE A CONNECTION CULTURE
"It's easier to love a brand when a brand loves you back." – Seth Godin
One of the ways a business can assure success is by creating a genuine connection with each guest.
Guests and clients want to feel that they are the most important. In fact, each moment of their visit and every interaction with staff (also known as touch points) should leave them feeling appreciated. This means being fully present with the guest; listening to and anticipating their needs and wants to the best of your ability. For example, if they are active on social media you can learn more about them (in a totally NON-stalkerish way, of course). Or, you can just ask them if they have any special likes or needs.
Furthermore, you want your guests to return! Guests remember how they feel when they know they are being heard, understood and treated well. We all know the phrase, "You never get a second chance to make a first impression." (Will Rogers). Making a memorable GOOD first impression goes a long way toward making your guest's stay a positive one.
Case in point: This past weekend I made plans to travel after work to a hotel in a city I'm not familiar with. It required a 3 hour drive and arriving at the hotel around 8 pm (well after dark). Before leaving my home town, I went online to confirm that all was well with my reservation and that my room was waiting for me. However, there seemed to be a glitch, and it was requested that I telephone the hotel directly. I called to ensure that they did, indeed, have my reservation on file. However, the person who answered spoke to me in a very disrespectful manner.
"Ma'am," she said in a frustrated tone of voice; "if you made a reservation and you have a confirmation number, then we have your room."
"Yes, but there seems to be some confusion about the confirmation number."
"Ma'am, you will have a room when you get here."
"Yes, thank you, but could you please look up my name and confirmation number so that I may be confident that all is well?"
(I then heard an audible sigh on the other end.)
"What is your name? Yes Ma'am, we do have you in our system."
Now, that was the first of several events that went downhill at that hotel (I'm sure you do not want to read the laundry list of situations I shall be addressing to the management at that establishment). Needless to say, I certainly did not feel like I was important, nor did I feel valued, especially taking into account the cost of the room, my time, and the drive to get there.
Lastly, it was VALENTINE'S DAY! I was NOT feeling the love!
It is understandable that sometimes those working in the service industry are going to have a bad day. However, setting aside personal issues and being kindly present with the guest goes a long way toward helping them feel appreciated (and guaranteeing a return booking).
LEVERAGE YOUR LOCALE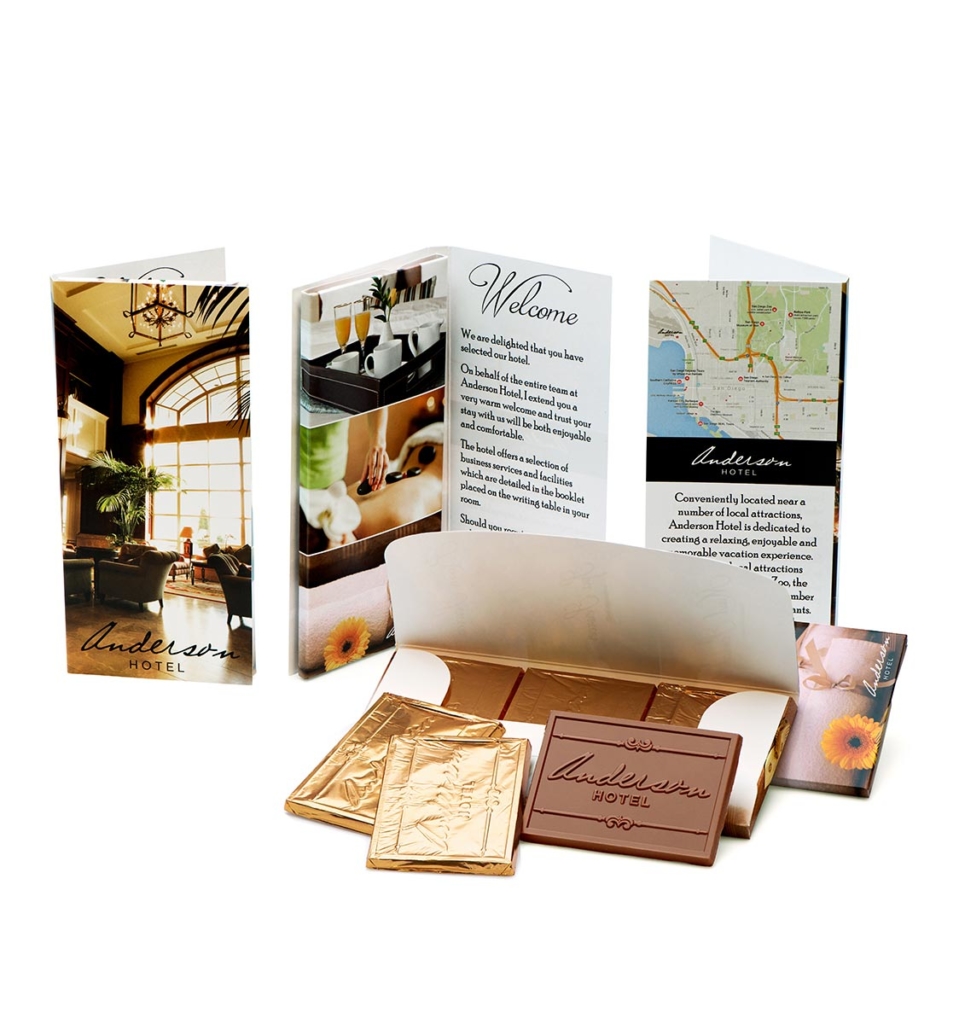 Another way to create a memorable guest experience is to take advantage of the natural surroundings of your area, as well as popular activities. Additionally, offering products from local vendors boosts the businesses in your region. Even more importantly, offering local products as part of your hotel amenity program ensures that guests will get to purchase unique products that they couldn't find elsewhere.
You could offer locally produced honey, specialty clothing, or artisan breads. Another idea is to offer handcrafted artful gifts such as pottery, glass arts, and jewelry. Because guests are looking for memorable experiences, you can highlight in your brochure or website some eateries nearby that provide ingredients grown locally.
Or you can partner with a local winery. Offer their wines at your establishment. Also, you can work with the winery to offer VIP winery tours for your guests.
When I lived in Ketchikan, Alaska, the summer tourist season was my favorite time of the year. Cruise ships would come in with daily passengers outnumbering locals by double, or sometimes triple the numbers (and more). And cruise season meant all the quaint shops would be open, as well as exciting tour and excursion businesses. Tourists would often take float planes out to prime fishing spots in the islands. There were also local native totem parks to explore, a salmon hatchery and eagle sanctuary to tour, and the famous Creek Street to stroll upon. Often, people would travel out by the busload to a remote lake where they could kayak and take in the wild, breathtaking scenery. This simply goes to show that there many ways to showcase your area to your guests.
One wonderful activity that is becoming quite popular is doggie day trips. Travelers stop by local animal shelters and take the shelter residents out for a day of fun! Perhaps you could partner with your local shelter and offer these outings to your guests – complete with a fresh picnic basket of local delicacies for the humans, and delectable locally-made cookies for their canine companions.
Does your community, city or state celebrate unique occasions? Why not offer your guests gourmet barbecue meals during the month of May, which happens to be National Barbecue Month? Alternatively, for National Book Month you can gift your guests with books written by local authors – a lovely addition to their nightstand.
The ways to leverage your location are only limited by your imagination!
OFFER EXCEPTIONAL VIP REWARDS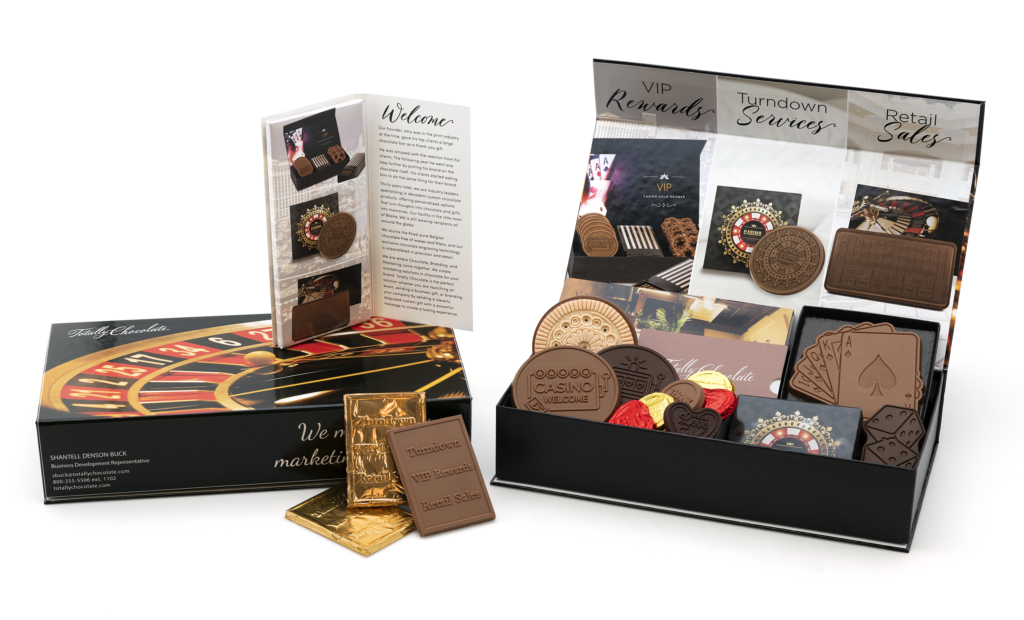 "Always remember that everyone with whom you have a relationship has an invisible sign on their forehead that says, 'Make me feel important.' Treat them accordingly." – Eric Philip
VIP hotel reward programs are a wonderful way to bestow gratitude upon return guests and customers. There are the usual casino and hotel VIP rewards such as early check-in, points-based and bookings-based services and special gifts for purchasing upgrades.
Alternatively, you can get truly creative when it comes to VIP rewards. Again, creativity is key here. If you really want to enthrall your guests, consider one or more of these options:
Private rooftop dinner with live musicians
Custom made soaps and spa baskets
Premium sports or concert tickets
A personal butler for a day
Monogrammed pillowcases or towels that the guests can keep
Complimentary massage
Sweets!
I'm sure you wondering when sweets would come into play! Here at Totally Chocolate, our purpose is "To Create WOW Moments of LOVE and APPRECIATION that strengthen RELATIONSHIPS."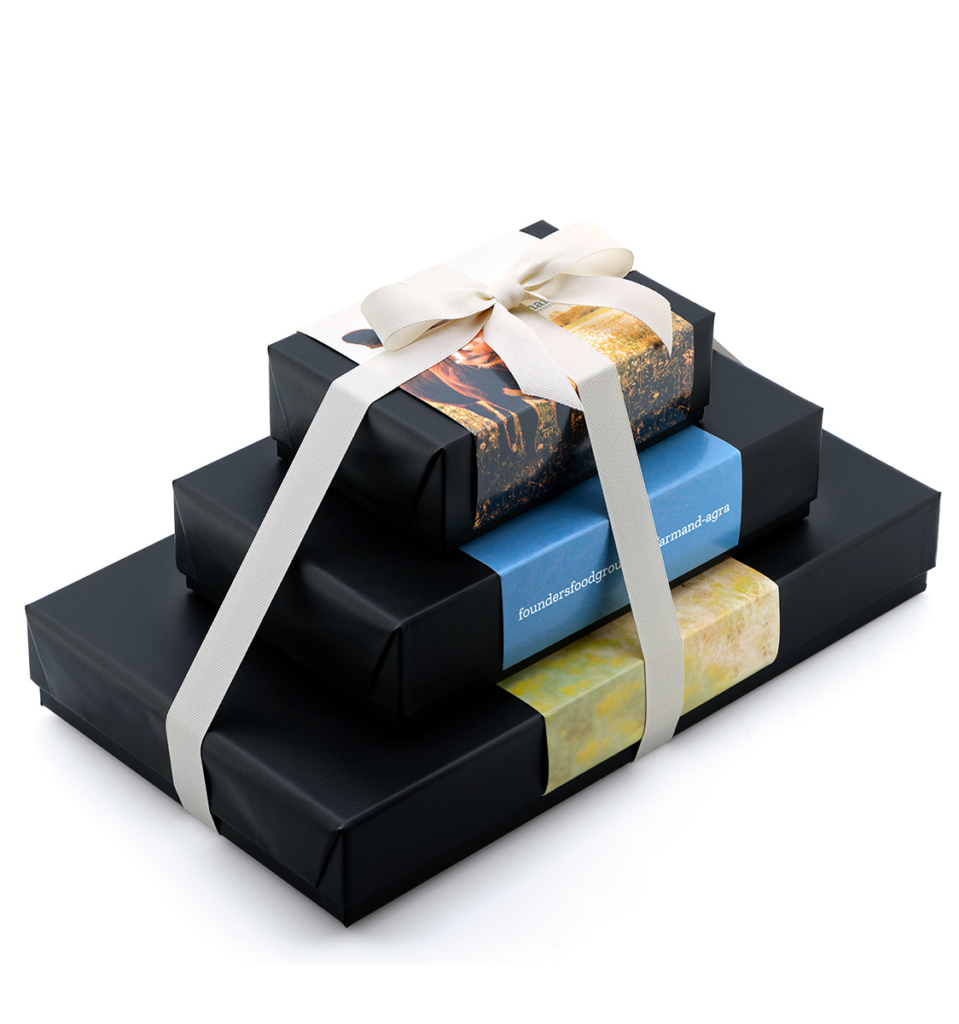 Turn the ordinary chocolates or mints into EXTRAORDINARY confectionary surprises for your VIP guests. Our Indulgent 3-Piece Gift Tower is loaded with luxurious custom designed delicacies. The top tier contains creamy, succulent dark chocolate salted caramels. Inside the center tier are nestled 12 European style cookies topped with your choice of decadent Belgian chocolate. And, the bottom tier is the pièce de résistance: a stunning 2 lb. Belgian chocolate bar!
Have the bar (and cookies) engraved with your logo or a special message for your VIP guests. Or, create an original design. Packaging and engraving options are unlimited! Your guests will truly feel loved and appreciated and "WOWED" when receiving this luxurious, gourmet delight!
OFFER EXTRAORDINARY AND UNIQUE TURNDOWN GIFTS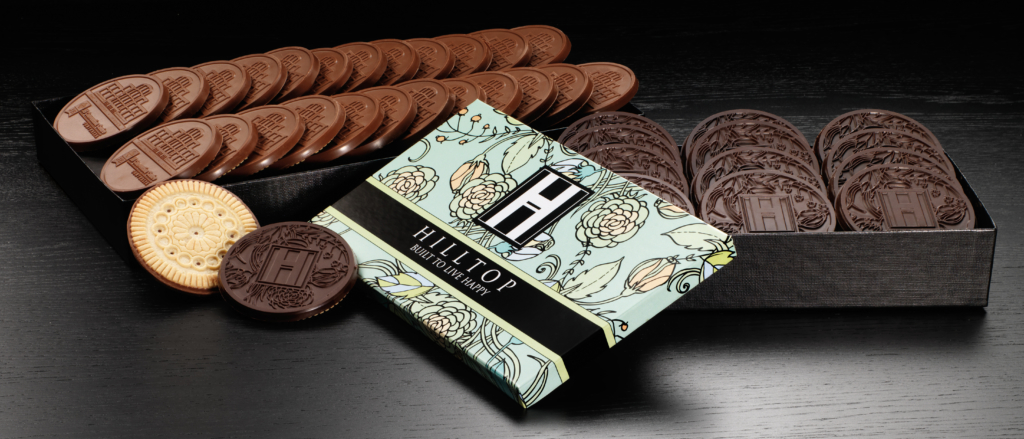 Turndown service is one of the duties of the hospitality staff. To put it simply, it's turning down the bed linens, freshening the guest room, and preparing it for a good night's rest. It may also include a handwritten card with a good night note, placing a breakfast menu on the nightstand, and replenishing soaps and toiletries. Comfort is the main focus here.
In addition to the standard turndown services, you may also want to consider adding unique services and amenities:
Bedtime beverages. This service could include locally produced teas, wines or specialty cocktails unique only to your hotel. Brighten up the tray with local fresh flowers or herb bouquets.
Bedtime stories for the "littles." During the holiday season, some hotels offer Elf Turndown Services. At bedtime, Santa's Elves serve the children cookies and milk or cocoa and read a story. This would actually be a wonderful treat year-round, especially for those families vacationing with children! (And the children can keep the books!)
Additionally, you can make the cookies an extra special treat – like offering Belgian chocolate custom cookies engraved with holiday or other unique designs.
Pillow drops. A mainstay of turndown services is placing generic chocolate or mints onto the pillows. However, you can take this a step further and offer custom Belgian chocolate delights. Custom designed foil-wrapped squares are a memorable treat!
Take relaxation to the next level with adult coloring books and colored pencils! Your guests can unwind with artful activities. Want to make it even more unique? Have custom coloring books printed with scenes from your hotel, gardens or local landscapes.
Offer custom pillow sprays accompanied by relaxing music. Create a custom play list and burn to CD or flash drive for the ultimate aural experience.
As you can see, there are many ways to create memorable guest experiences.
How will you WOW your guests?