Hopefully every one gets to experience what it's like to have a boss that changes our lives for the better. Maybe they were a mentor or leader in an industry, or perhaps they saw something in us that we didn't see ourselves. Maybe they helped launch our own career or guided us toward exactly where we needed to go.
Often times what makes a good boss really stand out is that they see and acknowledge their employee; they show their appreciation. Gratitude doesn't always require a grand gesture, it can be as simple as saying "Thank You."
If you are a boss, it is imperative to show your employees appreciation. Not only so they stick around but because the employees are usually the backbone of any successful business.
But maybe you've run out of ideas for the perfect thank you gift. It can actually be tricky to strike the right tone to let employees know you are grateful for their service without it being a token gesture.
Whether it is because the holidays are coming up or you have just received your impressive year-end numbers, why not go the extra mile to say thank you to your employees?
A Thousand Ways to Say Thank You
Ok, maybe not a thousand, but Totally Chocolate has a huge range of unique thank you gifts to choose from. And, they are all beautifully packaged and made with high quality ingredients so that it's basically impossible to go wrong.
Here are just a few examples
Thank You Silver and/or Gold Foiled Coins
Watch the anticipation build as they unwrap these individual dark Belgian chocolate coins. Choose from gold or silver wraps or order a case of each. Sometimes it's the small gestures that mean the most to people — you can leave a handful on your employees' desks or keep a well stocked bowl for people to help themselves to.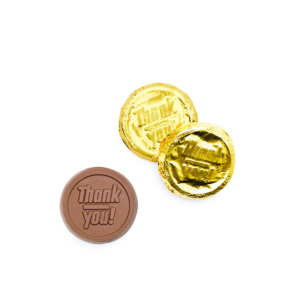 6- or 9-Piece Oreo Cookie Engraved Chocolate Box
These go way above and beyond anything you can find on supermarket shelves. Oreo cookies that are coated in a layer of delicious and decadent white or milk Belgian chocolate, which is then engraved with a thoughtful Thank You. Encased in a stylish box, these high end treats are amazing from start to finish.
Thank You Chocolate Bars
A solid bar of our most delicious dark Belgian chocolate that your employees can work their way through at their leisure. Custom engraved, you can include a unique thank you message along with the company logo, or if you anything else that might be meaningful to your employees that shows you care. You can order by the case so that your employees never suffer a 2 pm sugar crash, and so you never run out of ways to say Thank You.
12-Piece Confetti Cookie Set
Who doesn't like to say they practically know Oprah? While now you can because this incredible custom cookie box was featured in Oprah magazine. It's the gift that keeps on giving! Tastefully adorned with colorful confetti, this classy cookie set is so gorgeous, your employees might not want to eat them. And they will definitely know you appreciate them.
19-Piece Ensemble
This engraved Belgian chocolate says thank you 19 times! In large and small, milk and dark chocolate pieces, one layer on top of another. The recipient of this thank you gift gets to open up an attractive and stylish box that screams appreciation and thoughtfulness.
Milk or Dark Chocolate Sugar Cookies
Who doesn't love a classic cookie? A simple sweet treat that can turn anyone's day around, especially those that might be feeling under appreciated. You can hand these out anytime, anywhere for a delicious, thoughtful gift!
Honestly, the list goes on and on — these are just a few of our favorites.
People are always on the lookout for that perfect gift, and at Totally Chocolate, we specialize in perfect gifts, especially when it comes to saying thank you to your employees for a job well done.
In our opinion, thank you chocolate is the best kind of chocolate. It's way better than I'm sorry chocolate and please forgive me chocolate and can you do me a favor? chocolate.
And for employees who do so much for you, who give you their time and energy, the least you can do is acknowledge their efforts. Customized chocolate that is made with high-end, high quality ingredients will leave a lasting impression on your employees.
Making Magic for 3 Decades
For 30 years Totally Chocolate has specialized in creating the purest, most decadent chocolate gift products available with ingredients sourced from the finest growers and free of waxes and fillers.
With exclusive custom chocolate engraving technology, Totally Chocolate offers unparalleled precision detail. So if you want to say thank you in a totally unique and meaningful way, look no further.
Have an idea that you think might be crazy? Let us know! We love bringing unique visions to life. The team of chocolate specialists is ready to assist in selecting one of the impeccably curated gifts or in creating a one-of-a-kind, custom chocolate masterpiece. The choice is yours!
We know that our chocolate tastes incredible, but honestly we think it tastes even a little bit better when it is received as a gift. It can be easy to overlook those who work the hardest for us, but you don't want to be that kind of boss. Make sure you know that your employees are appreciated with something as special as a unique, custom engraved, thank you chocolate.
[contact-form-7 id="13422″ title="Fully Custom Order"]