We love it when worlds collide, like when pumpkin spice meets a latte or detailed engraving technology encounters the world of delicious chocolate. Whatever genius decided to experiment with engraving and chocolate deserves an award!
The best thing about engraved chocolate is that there are no limits to what you can create. We have seen everything from customized chocolate baby announcements, unique corporate gifts at events and conferences, and chocolates engraved with all kinds of meaningful messages. Custom branded chocolate is a fun, unique and versatile way to connect with customers, colleagues and anyone else you want to impress.
One of our favorite things to see is custom logos on candy and chocolate bars. For businesses large and small, there are so many opportunities to use custom branded  chocolates that are engraved with the company logo.
Need some convincing? Read on…
Trade Shows Giveaways
Handing out chocolates with your business logo at trade shows is one of the best ideas out there. Over the years, we have collected countless knickknacks that are essentially dust collectors or junk drawer fillers. Pens that break, water bottles that leak, magnets, tote bags and other bits and bobs, our lives are full of things like this.
But chocolate… well, there's always room for more.
Custom engraved chocolates are a great way for you to catch and keep the attention of conference and trade show attendees. Amid the hustle and bustle of conferences and conventions, custom branded chocolate will make anyone stop and take notice.
Every booth at a trade show needs a giveaway, and we can think of anything better than chocolate. This is how you can really stand out to trade show attendees, you can order these treats so that your logo is front and center. Or order a custom branded chocolate tower or giant chocolate bar and use it as the main prize for a draw.
One of the coolest ideas we have seen in the world of custom branding is chocolate business cards! You can engrave your contact details and logo in chocolate on a Belgian milk or dark chocolate 2×3" edible business cards. Plus they come with the option of a full color custom printed box so that there is something left over once the business card gets eaten. It's genius!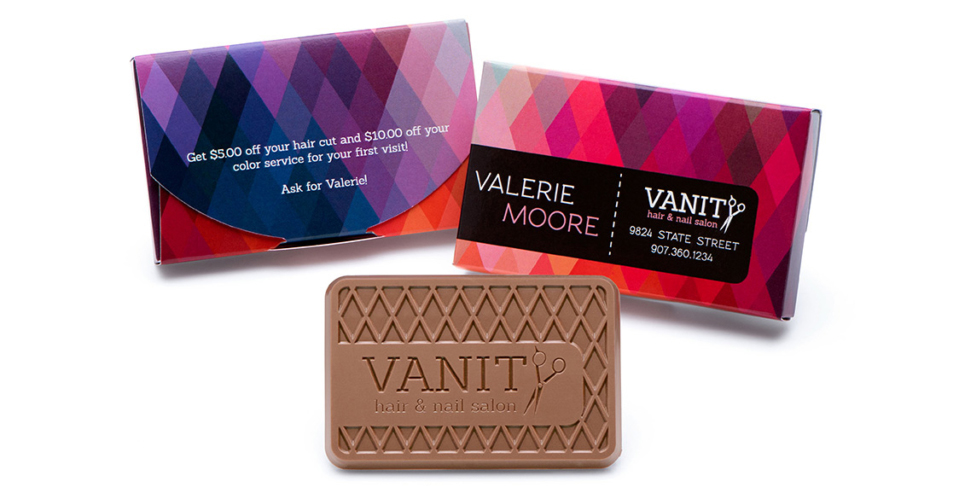 Award Ceremonies
One of the best thing about awards ceremonies is that they usually send you home with a swag bag. Everyone loves a swag bag.
There are some inventive ideas in swag bags these days, and while custom engraved chocolates might not be the most inventive, we can almost guarantee they are going to be the most popular item in the bag.
Awards ceremonies have a way of going on and on, and people lose steam about half way through. Is there a better way to perk up than with a quick dose of delicious chocolate? Chocolate comes in so handy, and if you can custom brand a chocolate bar, people are going to remember you for a long time to come.
Show your appreciation
Because in the world of business, half the battle is being memorable. It can be really difficult to stand out in the world so anything you can do to give yourself the extra edge is going to serve you well in the long term.
And that goes for your customers, too. If you can make your customers and clients feel appreciated, they are going to keep coming back and tell their friends about you, too.
Customer appreciation is a huge part of customer service, and it's smart to get creative about it. Custom branded chocolate is a unique way to let your customers know that they mean something to you.
Here are a few ideas from Totally Chocolate, where their chocolate specialists and creative staff can assist you in the creation of a one-of-a-kind, custom chocolate masterpiece with your very own business logo or design.
Chocolate Bar
Not just any chocolate bar! Again, the possibilities are endless. You can  include milk and dark Belgian chocolate in one design, make it big, custom brand it, and design the packaging, too.
Custom Chocolate Shapes
Think outside the square and order a chocolate creation in the shape of almost anything you want.
Promo Items
You can get really creative here, and go as high end as your budget allows. For example, there is the Printed Envelope Chocolate Trio. This custom creation opens to feature a trio of incredibly delicious chocolate. This product combines the best of both worlds: foiled and printed packaging options all in one custom printed chocolate squares.
Or how about this: Two tasty sugar cookies engraved with your custom-designed artwork or logo in milk or dark Belgian chocolate. Also available with an Oreo cookie topped with white chocolate. Each box includes a full color custom imprint and design, and cookies that are individually sealed for freshness. They make great giveaways for your customers.
Ok… one more idea. This one is a little niche and might not be appreciated by everyone, but we love it. Chocolate golf balls! You can order a box of three — dark, milk and white chocolate — each the size of an actual golf ball. And they come in a custom designed box that has your logo and contact info on it. If you can't make it to the golf course to close that deal, this is seriously the next best thing. And absolutely unforgettable.
The point is that being memorable in the world of business is going to help lead to your success. Being forgettable is just not an option.
Custom branding has been around for a long time, and the reason the idea has stayed is because it effective. But to be successful, you need to stay ahead of the crowd, and custom branded chocolate is the perfect way to make a lasting impression.
[contact-form-7 id="13422″ title="Fully Custom Order"]