Sure, you can opt for a generic gift when the occasion arises. But don't you want to delight the recipient and put a smile on their face when you gift them with custom made chocolate gifts? We thought so! This is exactly why we've prepared this ultimate guide to help you choose a custom chocolate gift – be it for a client, an employee, or simply to show appreciation and gratitude to someone who truly deserves it. Ready to find out more? Let's go!
And so, without further ado, we present to you the three short steps you can take to presenting a truly incredible gift – a personalized chocolate amalgamation that will please and delight like no other! Take a look below.

Customized chocolate flavors

Let's face it. Generic gifts should be out of the equation by now. Today, everyone is looking for the personal touch – whether it's on a professional or more intimate level. And nothing says it better than with customized chocolates. Some of the flavors you can choose from with us include:
● Belgian chocolate: this milky richness will melt in the mouth and create a lingering taste experience.
● Dark chocolate: for the more refined palate, choose dark chocolate. It's not only delicious but good for the heart as well.
● Peppermint flavor: like the crisp and fresh feel of mint combined with chocolate? This is the perfect option to go for.
● Cookie and cream: and for those who like to pamper themselves, chocolates with a cookie and cream flavor is possibly the best way to captivate and enchant.
Some people may prefer the minty flavors. Others may like the richness and depth of dark chocolate. Yet others may opt for the decadent Belgian chocolate. There are those who revel in the combination of flavors of dark and milk chocolate. And even more – there are those who simply love cookies. So, why not go for some chocolate cookie sets? Whatever the gift recipient prefers, choose a custom flavor that will delight them or better yet, offer them an array of options to choose from.

Custom chocolate packaging

Once you've decided on the flavors (or a combination thereof), it's time to look at the packaging. Remember that half of the gift is in the way it is presented. So, packaging is crucial. Luckily, with Totally Chocolate – you've got options.

Bar, box, or tower?

And there are plenty to choose from. Do you think that the recipient would like a box of chocolates? Say a 2lb one? We thought you might say yes! But don't worry. There's more where that came from. For instance, you can always opt for a beautiful box with a special message.
● Bar: the traditional chocolate bar doesn't have to be a teeny-tiny chocolate bar. You can go for sizes including a 2lb chocolate bar. That's bound to impress!
● Box: of course, you will never go wrong with a box of chocolates! These chocolate assortments or unified flavor offerings will put a smile on anyone's face.
● Tower: wondering what a chocolate tower is? It's a chocolate gift set that is arranged vertically for greater height and volume to please and delight.

Choose the design of the packaging

Are you gifting someone to express how special they are to you or to express a heartfelt message? We've got all of these options and more for you so your choice will be really easy to make. But there's more where that came from.
But in order to make the chocolate gift unique, after you've selected the flavors it's time to choose the design of the packaging. Did you know that you can choose from a variety of funky colors and designs? What about personalizing it with a special message? Now you do! Of course, your "happy birthday", "season's greetings", "thank you", or any other message can be placed on your engraved Belgian chocolate or your custom engraved medallion. You can not only have the chocolate engraved but have your special message printed on the box of your custom chocolate gift.

Chocolate for any occasion

Now we reach the final step in our ultimate guide to the perfect gift in the form of personalized, custom chocolates – the occasion. Here's where you can go all out. There are so many occasions to choose from, it's simply mind blowing. There are appreciation gifts for colleagues, teachers, hospital staff… There are holidays such as Thanksgiving and Christmas that are coming up and perfect to delight your recipient with a custom chocolate.
Then there are special personal occasions such as birthdays, anniversaries, baptisms, births, achievements at school, work, or even at your favorite sports club. The list is practically endless. But the key thing for each of these is that you'll never go wrong with custom chocolates for any of them.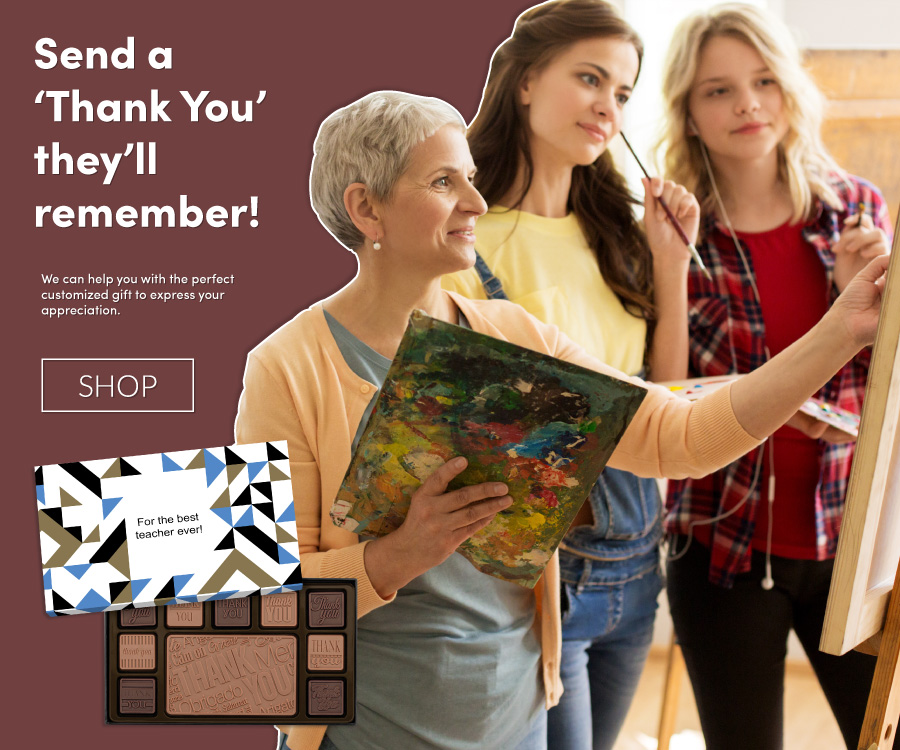 And that's a wrap…

Gift giving doesn't need to be a tough decision anymore. In fact, it can be the easiest thing you do. And you can bring a smile to someone's face and delight their taste buds with a custom box of chocolates. There are simply no limits to when you can opt for personalized chocolates as the way to go when you're choosing a gift for someone.
From rising chocolate towers, deliciously decadent cookies, medallions, and everything in between such as dark or milk Belgian chocolate – we've simply got you covered all the way. All it takes is to browse through our selection, make your pick, and leave the rest to us. We're the pros at chocolate and we know how to delight for every single occasion. So, if you need a helping hand, don't hesitate to get in touch with us. We're just a quick click or phone call away!